100th OAND Annual Conference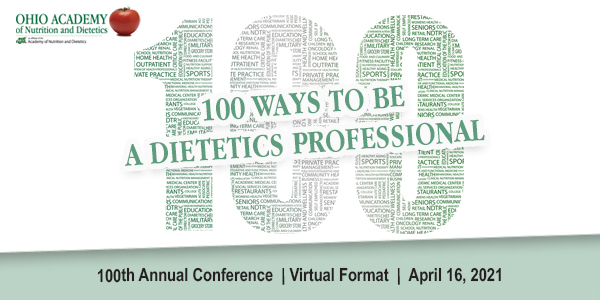 ---
It's time to register for #OAND2021! You won't want to miss out on our Virtual Annual Conference. This year we will celebrate the 100 Ways to be a Dietetics Professional, including educational sessions on professional development, entrepreneurship, clinical, community, counseling, foodservice, and diversity, equity and inclusion. Attendees can receive up to 6.5 live and 4 recorded continuing education hours. This year's event will be utilizing an interactive platform with networking capabilities.
Our keynote speakers, Teresa Turner, MS, RD, LDN, SNS, FAND, Krista Yoder Latortue, MPH, RD, PMP, PBA, FAND will teach us how to "Bridge the Gap" and improve cultural humility between the demographics. The closing general session, presented by Chef Abbie Gellman, MS, RD, CDN will teach us culinary techniques to meet the needs of our clients.
The sessions include:
Bridging the Gap: Cultivating Anti-racism Among Nutrition Professionals
Teresa Turner, MS, RD, LDN, SNS, FAND
Krista Yoder Latortue, MPH, RD, PMP, PBA, FAND
Are You Ready for Future Dietetics Practice? Use Design Thinking to Evolve Your Career at Any Stage
Julie Jones, MS, RDN, LD
Creative Connections - Using Podcasting to Inspire Health Behavior Change
Jenny Pitcher, RDN, LD, CHWC, RYT-200
The Many Hats of a NICU RD: Connections between Nutrition and Lactation
Anna Busenburg, RDN, CSP, LD, CLC
Wendy Cruse, RDN, CSPCC, CLS, CD
Jessica Thornton, RDN, CSP, CLC, LD
Let's Have a Conversation: Application of Dialogue Learning in Community Nutrition Education Programming
Cindy Conway, MS, RDN, LD
Amy Habig, MPH, RDN, LD
Amy Hollar, MS, RDN
Cheryl Spires, MFCS, RDN, LD
The Cultural and Culinary Relevance of Food and Nutrition from Farm to Table
Kim Kirchherr, MS, RDN, LDN
The Business of School Food Service: Past, Present, Future
Sarah Carlson, MS, RD, LD
Lauryn Palgut, MS, RDN, LDN
Maureen Pisanick, RDN, LD
Myths and Realities About Future Requirements for Registered Dietitians
James Swain, PhD, RD, LD
Examining Race as a Metric in Healthcare: The Good, the Bad, and the Ugly
Candice Jones, MEd, RD, LD, CDCES, FAND
Suzanne Summer, PhD, RD
Changing the Conversation: Culinary Techniques to Meet the Needs of a Clients Diagnosis Without Sacrificing Flavor for Aging/Geriatric Diseases
Chef Abbie Gellman, MS, RD, CDN
We hope to 'see' you there!
Rosa Hand, PhD, MS, RDN, LD, FAND, Chair, OAND 2021 Conference Planning Committee
ATTENTION STUDENTS: The Sponsor A Student Initiative (SASI) has received funds from a generous group of members to discount the first 50 student registrations received. You MUST sign in to the website as an OAND member to receive the discount.
Check out the Annual Conference Schedule, Sessions, and Speaker information
Early Bird Registration rates (before March 17, 2021)
| | | |
| --- | --- | --- |
| Member | $149 | |
| Retired Member | $79 | |
| Students | $79 | (Currently $50 off Sponsor-A-Student-Initiative (SASI) Discount $29) |
| Non Member | $249 | |
---
Interested in becoming an Exhibitor/Sponsor?
View the Exhibitor Virtual Tradeshow Packages 2021


Become an exhibitor sponsor today!
---
If you have any questions, please contact the OAND office at 614-436-6131 or jeannine@eatrightohio.org.